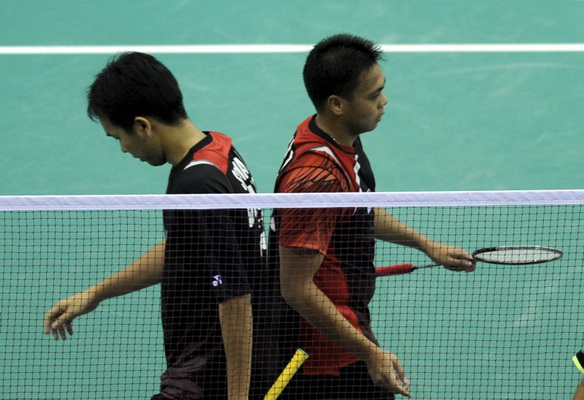 The Djarum Kudus badminton club has set itself the target of making its athletes qualify for the main round of the Indonesia Open badminton championship Primary Super series in Jakarta on June 21 through 26, 2001.

Head of Djarum Kudus badminton club Yoppy Rosimin said here on Friday, the badminton championship with prizes totaling US$ 600,000 will also be participated in by badminton players ranked 28th in the world.

Therefore, Djarum Kudus players who are ranked 50th in the world would have to fight hard to qualify for the main round, he said, explaining that Djarum Kudus will feature nine athletes who will compete in the man`s singles, woman`s singles, women`s doubles, men`s doubles, and mixed.

Andre Kurniawan who is in 73th place in the world will meet Thailand man`s single Tanongsak Saesomboonsuk. If Andre Kurniawan wins, he will challenge the winner of the match between Sonny Dwi Kuncoro and Chou Tien Chen (Chinese Taipei).

In the woman`s singles, Fransiska Ratnasari will meet US player Wang Rena who ranks 50th in the world. Should Fransiska Ratnasari win, she will meet the winner of the match between Jiayuan Chen (Singapore) and Aprilia Yuswandari (Indonesia).

In the meantime, Ana Rovita will meet Elizabeth Cann. If Ana wins, she will meet the winner of the match between Adriyanti Firdasari and Michele Li (Canada).

In the women`s doubles, Aulia Putri Darajat/Khaeriah Rosmini will meet Leanne Choo/Renuge Veeran (Australia).

Ririn Amelia/Melati Daeva Oktaviani will meet the Canadian women`s double Gao Grace/Joycely Ko in the first round.

In addition, Dionysius Hayom Rumbaka who will directly fight in the main round, will challenge the South Korean man`s single Shon Wan Ho. If Rumbaka is successful, he will meet the fourth seeded Peter Hoeg Gade (Denmark).

Maria Febe Kusumastuti will meet Japanese woman`s single Ayane Kurihara. If Maria wins, she will meet the winner of the match between Salakjit Ponsana (Thailand) and Sayako Sato.